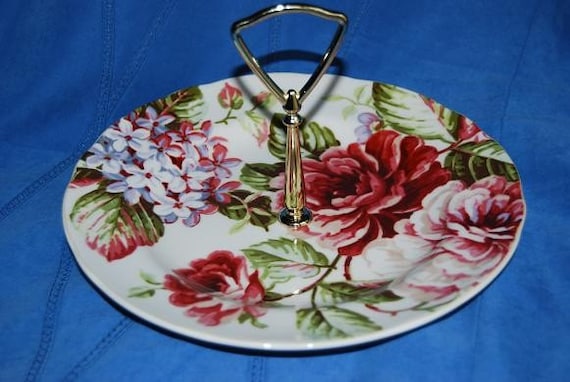 This past summer we decided to to work on some hand drilled tidbit plates for our Etsy shop. Cathy was visiting from Chicago and brought her drill and new drill bits.. This was a learning adventure for Mary, as she had not tried the drilling of the plates yet! Well, of course we decided to drill outside on the hottest possible day of the summer. But for us it is not really work, it's play. We work/play in just about all that we do together.
It really takes quite awhile to carefully drill holes in porcelain or depression glass plates. If you drill too fast you risk breakage. So it is a rather slow, long drawn out process using a hand held drill. So we take turns, cause you end up with hand cramps. After drilling several plates successfully, we decided to try something completely different. We had never tried a clear glass plate before.
So we had purchased a beautiful vintage green depression glass plate a few day earlier and we decided to use that one for our very first glass plate. After about an hour of taking turns drilling this plate, we noticed the plate and the drill seemed to be smoking just a little. So it was time for a break. We got some ice water, to relax with. A discussion began on the best way to handle this plate. And then we remembered that sometimes water is used to assist drilling. This seemed like a brilliant way to speed up this process to us. Little did we know! We went back to drilling, and Cathy says " Do you want to add water?" I said "At this point what could it hurt". So as I am drilling she proceeds to slowly dribble water into the area I was drilling. Suddenly there is a loud pop, that was even louder than the whine of the drill. I look at her, she looks at me, and we both end up on the ground laughing hysterically. The water she used was the water she was rehydrating with and it was ice cold with a few small ice cubes left in the glass. With the heat of the drill and plate and the hottest sun possible, the plate shattered. So much for our lovely vintage plate, but we had the best laugh that both of our stomachs ached from laughing so hard.
For anyone else, this could have turned into a disaster. But for us it was another day of bonding, and laughing. Of course we learned a valuable lesson in plate drilling. Never ever add ice water to drill a plate LOL.